Imagine you're at the doctor's office waiting for your appointment and are feeling nervous. Then imagine a middle-aged man comes running up to you, sits uncomfortably close to you, and then proceeds to elbow you repeatedly while trying to make small talk while singing.  Most of us would be pretty annoyed, right?  So if this kind of behavior isn't acceptable for humans, why do so many people let their dogs treat the vet waiting room like an unofficial dog park.

So here are some general rules that you should abide by while at the vet.  Failure to do so makes you Supreme Ultimate Asshole (and yes, there is a crown for that).

You've arrived at the vet and are now waiting for your turn in a waiting area covered with inspirational cat posters.  What should you do?
Keep your dog on the damn leash.  For real.  And we mean the entire time too.
2. If you insist on using flexi-leads (and you know how we feel about those), lock the line.  No one wants to break an ankle on your tripwire-of-doom while you yap on your cell phone.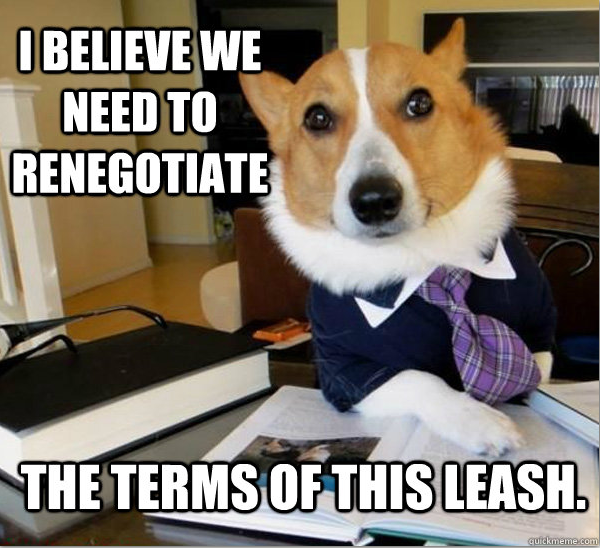 3. Ask permission before you let your dog approach another dog.  And if they say no, respect their choice and don't force Princess Fluffypants on their petrified pooch.
4. The same goes for cats/critters in carriers.  Don't be an asshole and let your dog harass little Bunny Foo Foo or the hissing cat in the cloth carrier.
5. If your dog isn't okay with other animals or people in reasonable circumstances, request an appointment during quieter hours. If that's not possible, bring a friend/someone who owes you money to sit inside as the place-holder to call you in from outside when it's your turn. Even better get one of those nifty mobile vets who come to your house. It's like a pizza delivery guy, but with more student loan debt.
So you waited, and sometimes waited and waited and now it's Fluffy's turn! Yes! It's halfway over but wait… you still have rules to abide by.
Is your dog a dick? Yes? Tell everyone who comes into the room. Repeat yourself until you think you may be annoying. If you are aware that your dog has the capacity to put a tooth through someone, not notifying them makes you a massive asshole. Bonus points for bringing your own muzzle and having it on before getting out of the car.
2. Look around. Is there a big-ass table in the middle of the room? Yes? Put your small/medium dog on it and hold them there. Really big dog? Hold off and wait for the vet. There may be some alternative arrangements for placement.
3. Have a question? Ask it no matter how stupid (And yes Virginia, there really are some incredibly stupid questions.) Better to be quietly snickered at later than accidentally harm your pet.
4. Be honest. If you are feeding for 70lb dachshund a rib roast with gravy every night for dinner, no one is going to believe "He just eats 1/8th of a cup and run two miles a day". Most pet-owners' lies are laughably unbelievable across the spectrum of animal industries so just don't even try. Be an adult and take the lecture on your fat/unmedicated/benignly neglected dog.
5. So help us God, do not ask for an arbitrary curative drug before the vet has even touched your pet. Veterinary medicine is certainly not straight-forward. While the novelty of the informed pet-owner imbues the average dog person with special status at their vet, that preferred status can be quickly lost by being 'one of those' owners. The needy pain-in-the-ass types. While you may be sure a round of steroids will clear up that phantom limp, treating your vet like an inconvenient pill-pusher won't win you any friends or make your vet particularly inclined to assist you.
You did it. You survived the vet trip. Fido is healthy, happy and you had your questions answered and you followed our rules. Go team! But… there's a few more things we should chat about….
Don't bash your vet if you intend to use them later on. If you still go to the practice and you didn't bring it to the attention of the practice owner/manager it's probably either not that important, not that serious or you may be being a bit of a special snowflake. The dog world especially is incredibly small. Calling your vet a jackass when you still go to them… not smart.
Have a little perspective. Just because your vet doesn't know the dosing of echinacea for your Persian's sneeze or the Bone/Organ/Meat ratio for your raw fed dog,  doesn't make them a bad vet, it makes them someone who has to google shit or look in a textbook like literally every other kind of doctor who is faced with something new. Vets will also make mistakes which a good one will cop to. It's life, it sucks, it happens, we move on. They can also have bad days like everyone else.
Bad vets exist. Rude, incompetent, nasty and plain old stupid people get into vet school too. We've yelled about them before and we probably will again. Most vets however, are not bad. If you attempt to treat all vets like they were bad, you will have a very difficult time finding a good one, and the constant in that equation is you.
So minions, what do you think?  What bad behavior have you seen at the vet?  Want to admit to being guilty of any of these?  We want to hear!